Crawl Space Drainage in Pennsylvania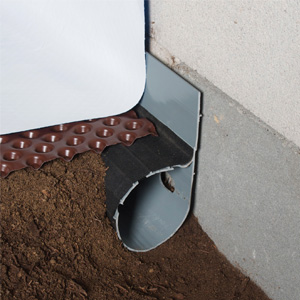 The SmartPipe™ Crawl Space Drain is compatible with the CleanSpace® crawl space system for a dry crawl space!
If you have a wet, leaking crawl space, it will affect your entire home.
Fortunately, most crawl space drainage problems can be fixed in about a day -- without disrupting your home.
BQ Basement Systems provides crawl space services of all types throughout the area, including flooded crawl space repairs in PA and NJ.
Crawl Space Drainage Systems
The best way to dry a crawl space that is experiencing groundwater seepage is to install a crawl space sump pump.
The sump pump will then collect the water and discharge it from your home through a discharge line.
At BQ Basement Systems, we also recommend installing SmartPipe™ around the inside perimeter of your crawl space.
SmartPipe™ is the first custom-engineered crawl space drainage system designed just for crawl spaces.
With 5 rows of drainage holes covered with a clog-resisting filter fabric, SmartPipe™ is specially designed to collect crawl space groundwater and direct it to the sump pump system.
Protecting your Crawl Space from Humidity and Water Vapor
Damp Crawl Spaces Can Lead To...
- Rotting crawlspace wood/timber
- Odors rising from the crawlspace
- Mold spores in the home
- Increased chance of termites/ants
- Higher cooling & heating bills
- Loss of crawlspace as good storage space
Even when your crawl space has no standing water, damp conditions may be present. Humidity and water vapor will continually enter a crawl space through concrete and dirt surfaces.
Once your crawl space drain has been installed, it's a good idea to protect your home further with a crawl space vapor barrier, along with airtight crawl space vent covers and doors.
At BQ Basement Systems, we provide the CleanSpace® Crawl Space Encapsulation system, including our 20-mil thick crawl space liner which carries a 25-Year Warranty.
The SmartPipe™ Crawl Space Drainage System has been designed to be an integral part of the CleanSpace® System and can be installed with all of our products, including our crawl space insulation, vapor barrier, sump pump, and drainage matting.
If you would like a FREE, no-obligation estimate for a dry crawl space, we're ready to help! Call or e-mail us today to get started! We serve Levittown, Pottstown, Trenton, Doylestown, Quakertown, Flemington, New Hope, Frenchtown, Red Hill, Newtown, Bala Cynwyd and close by.
Looking for a price? Get a no cost, no obligation free estimate.