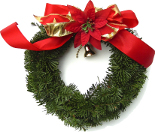 As employees at B.Q. began to prepare for their own Holiday feasts, they began to remember the families who may not be able to provide feasts for their families on the holidays because it's a struggle getting food on a daily basis. This is the season of giving! Help us give to local families in need.

From now until Christmas B.Q. will be collecting non-perishable goods at our office.

In addition, what better gift to provide for your family during these wintry months than home repairs that will improve energy efficiency and keep your family warm! Contact B.Q. today and schedule a free estimate for basement waterproofing and crawl space repair in Pennsylvania.